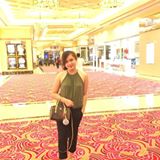 Amilli
@a.milli
Makati City   ∙   Joined 5y 8m
Verified
From my closet, to yours 💝
Reviews
super thank u po.seamless and fast transaction...no fuss,no buzz...God bless po

Super easy to deal with. Thank you for a very fast transaction. Hope to have a deal with you again.

jgffgnj

.

review from seller

3 years ago

Smooth and fast transaction. Sure buyer 👍😊. Speedy replies 💖💖 Thank you po!! 💖

super fast transaction! highly recommended buyer. thankyou for a hastle free transaction po :)

Super nice seller! Item is authentic! Thank you sis! Till next time💕

I had a smooth transaction with a.milli. She's friendly and pays on time. Thank you! Check out my listings again for more.

Great seller, super easy to deal with and very understanding. Thanks so much!

Very great transaction and a decisive buyer!! Payment was also very fast. Super pleasant transaction overall. Super thank you sis :)

Fast transaction and nice seller! Till next transaction! ☺

Easy transaction ! and Great buyer to deal with ❤️ Thank you

It was a pleasure transacting with you! Thank you very much! :)

Nice, easy to deal with, fast transaction with this buyer! :)

Great buyer to deal with! Punctual! Pleasant transaction! Speedy replies. Thank you!