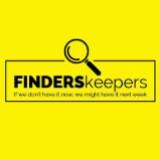 If we don't have it now, we might have it next week.
@finderskeepers86
Kuala Lumpur   ∙   Joined 8y 9m
Verified
FindersKeepers is the go to choice for unique and affordable clothing in the market. Browse through our wide range of apparels that eliminates wastage. Place an order now for an eco-friendly lifestyle.
@finderskeepers86 doesn't have any listings yet
Follow @finderskeepers86 to get updates when a listing is posted