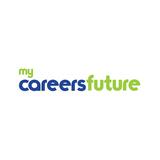 @mycareersfuture.gov.sg
No ratings yet
Singapore   ∙   Joined 4y 2m
Verified
MyCareersFuture is a smart portal that matches Singaporeans with relevant jobs based on their skills. It enables jobseekers to be more aware of their competencies and career opportunities, and highlights jobs that are eligible for government support.
mycareersfuture.gov.sg follows
@mycareersfuture.gov.sg is not following anyone yet.
Looking for users to follow? Browse the marketplace to discover listings from sellers you may like!